Michelle Malkin
is featured at this morning's DC Examiner, "
Michelle Malkin: Making War With Words
":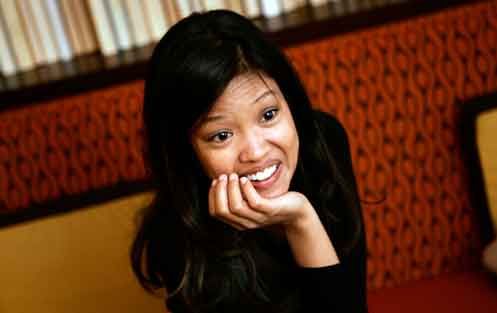 Read the whole thing at
the link
.
Michelle Malkin's brand of citizen's journalism is the (awe-inspiring) wave of the future, and Malkin, along with Rush Limbaugh, is the conscience of the conservative movement. What's most impressing about Malkin is simply her success. There's also luscious schadenfreude in how well she pissess off the left. As the article notes, Malkin gets "a daily barrage of hate e-mails from liberals, often racist and sexually explicit in nature." There's almost nothing that reveals the brain-addled anti-intellectualism on the left better than hate mail. Here's this attack on Malkin from "someone with a broken shift key":
YOU FUCKING NEOCON, AUTHORITARIAN, LYING BITCH. ALEX JONES EXPOSED YOU. HE MADE YOU LOOK LIKE A GUM SMACKING HIGH SCHOOL CUNT. YOU COULDNT COPE WITH ANYTHING HE SAID...ALL YOU COULD DO WAS SMACK YOUR GUM AND TRY THE LAME "TALK TO THE HAND" GESTURE. GO SUCK SEAN HANNITY'S DICK. YOU LOOK LIKE AN ASIAN WHORE FROM SOME TITTY BAR IN MANILA. GREAT SHTICK YOU HAVE…THE "MINORITY" UNCLE TOM WHO THROWS RED MEAT TO THE FOX NEWS IDIOTS! GO COVER UP MORE ANIMAL CRUELTY! GO CALL FOR MORE INTERNMENT CAMPS YOU FILTHY PIECE OF SHIT! GO CALL FOR MORE ISRAELI SLAUGHTER AGAINST CHILDREN! FUCK YOU!

JASMINE BENITEZ
NYC
I'm pleased to report that Malkin linked to American Power in a post last week, "
Letter of the day: Disgusted in Diamond Bar
."

That was some "Malkin-a-lanche"!
Photo Credit: DC Examiner.