Today's front-page at the Los Angeles Times features this shot of Torii Hunter, left, and John Lackey paying tribute to rookie pitcher Nick Adenhart, who was killed early Thursday in a broadside collision in Fullerton, California (the photo gallery is
here
).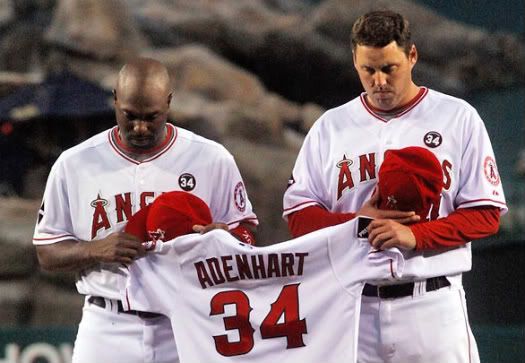 I first learned about Adenhart's death when I opened the newspaper yesterday morning. The Los Angeles Times' obituary is here: "
Angels' Nick Adenhart had rekindled his early promise
." Also, my friend Mark Goluskin posted on Adenhart yesterday, "
Nick Adenhart, 1986-2009
."

The circumstances surrounding Adenhart's death are especially sad, given that he and two of his friends were killed by an alleged drunk driver, Andrew Thomas Gallo, who has been charged by Orange County prosecutors with three counts of murder, hit and run, and drunk driving. Also killed were Courtney Stewart, 20,
a beautiful young student and cheerleader
at Cal State Fullerton, and Henry Pearson, Henry Pearson, "a 25-year-old law student from Manhattan Beach."

See the full story, "
Charges filed in death of Angels pitcher
":


As Orange County prosecutors Friday filed murder charges against an accused drunk driver, loved ones of the three young people killed -- a promising Angels pitcher, a Cal State Fullerton communications student and an aspiring sports agent -- mourned their loss.

Andrew Thomas Gallo, 22, of San Gabriel was charged with three counts of murder, hit and run and drunk driving in connection with the accident in Fullerton early Thursday.

Authorities said Gallo had a blood-alcohol content three times the legal limit of .08 when he blew through a red light. The Toyota Sienna minivan he was driving, prosecutors said, broadsided a Mitsubishi Eclipse driven by Courtney Frances Stewart, 20, killing her, Angels rookie Nick Adenhart, 22, and Henry Pearson, a 25-year-old law student from Manhattan Beach.

Jon Wilhite, 24, also of Manhattan Beach and a former catcher for the Cal State Fullerton Titans, remains hospitalized.

"This Angel and his two friends were too young to be sent to heaven," Orange County Dist. Atty. Tony Rackauckas said at a news conference.

For Friday night's game against the Boston Red Sox, the Angels wore patches with No. 34 in memory of their teammate, who had pitched an impressive six scoreless innings hours before the fatal accident.

At Cal State Fullerton, the cheer squad, sorority sisters, professors and classmates came together to mourn Stewart, a communications student, member of the Alpha Chi Omega Sorority and former cheerleader.

Stewart was remembered as a fun-loving sweetheart with a warm smile and a recognizable laugh who made friends easily.

Classmates such as Bobby Foster, a business marketing student, poured out their grief online by posting status updates to their Facebook pages.

"Such a sweet and charismatic girl, taken away from this cold, heartless world," he wrote of Stewart. "May we all dry our crying eyes and realize she's flying with angels in the skies."

Stewart's professors said she always sat in the front row, beaming a contagious smile.

"She was so beautiful, so bright," recalled Alana Northrop, who had been Stewart's political science professor, in a memorial of comments on a Web page set up by Cal State Fullerton: "There was no stuck-up-ness, she was genuine, a very special person."

Pearson was an aspiring sports agent who had attended Mira Costa High School in Manhattan Beach with Wilhite. Both of them had played on the baseball team there.

"What a great kid," Mira Costa baseball coach Mike Neily told insidebayarea.com. Pearson, he said, was a team captain and "one of these very likable boys."

"He loved life and he was going to be a superstar at something," Neily said. "I'd always call him a young Tom Cruise."
The Angels are my team. I'm watching the Angels-Red Sox game right now on Fox. The team has a history of team tragedies. Ssee, "
Angels have a long history of tragedies
," and the photo gallery, "
Angels tragedies
." One of the most famous of these is the suicide of Donnie Moore in 1989. Moore blew a save situation in game 5 of the 1986 ALCS, giving up a home run to Boston's Dave Henderson in the top of the 9th inning. The count was 2-2, and the Angels were one strike away from advancing to the World Series. According to Moore's
Wikipedia entry
, "In the public perception, Moore became indelibly associated with the Angels' loss of the pennant, in much the same manner that
Bill Buckner
became associated with the Red Sox' subsequent loss of the World Series later that year.

Moore shot his wife, Tanya, three times on July 18, 1989. He then turned the gun on himself. His wife survived.