I just love this Ramirez cartoon from IBD: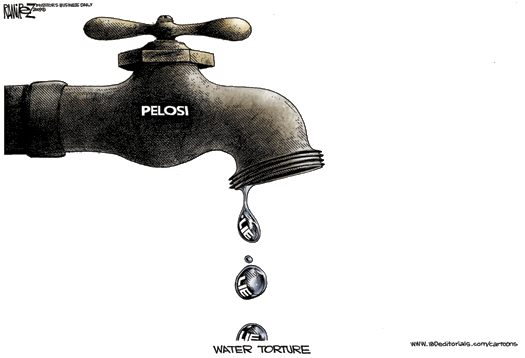 But see also Jennifer Rubin's essay, "
Madame Speaker, Have You No Decency?
":


The decision to criminalize and potentially prosecute Bush administration officials is a unique political witch hunt, heretofore never attempted by any party or administration. By raising the issue of the Democrats' involvement and lack of objection to the enhanced interrogation policies, Republicans are making clear just how partisan an affair this is. They are also making clear how lacking in merit is the underlying premise of the accusers that, of course, these methods had to be torture because everyone would have concluded that their use "shocked the conscience." Well, except for those lawmakers who attended some 40 briefings.
As usual, netroots leftists are still playing up "torture" as if the Democrats are not implicated in EIT. See Eric Martin, "
Used to be One of the Rotten Ones
," via Memeorandum.
But check Fox News as well, "House Majority Leader: Congressional Hearings Should Explore Pelosi's Interrogation Briefing":
While Democrats want the hearings to focus on what they call torture, Republicans have tried to turn the issue to their advantage by complaining that Pelosi and other Democrats knew of the tactics but didn't protest. Pelosi was briefed in 2002 while on the House Intelligence Committee.