Check out Dan Neil's piece at today Los Angeles Times, "
When Cars Were America's Idols
":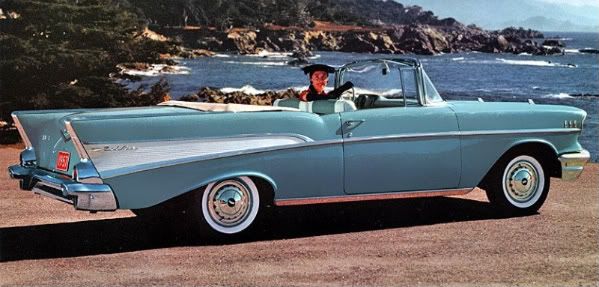 1957 Chevrolet Bel Air Convertible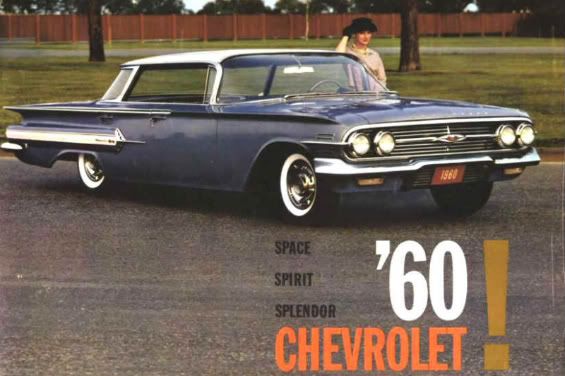 1960 Chevrolet Impala 4-Door Hardtop
If you were to walk up to a typical New York executive in the 1960s -- think Don Draper in AMC's "Mad Men" -- and tell him that General Motors Corp. would be in bankruptcy by 2009, he would have thought you were delusional, or perhaps a Communist. GM was more than just the world's largest and most admired corporation; it was the final vindication of the American Way, the perfected and even divinely inspired example of democratic capitalism that stood opposed to the airless atheism and nullity of the Soviet system.

Or imagine that you were somehow able to drag Nikita Khrushchev from the United Nations podium into the street to confront -- no, behold -- a 1959 Cadillac Eldorado Biarritz. Nearly 19 feet long from its Jayne Mansfield-like bumpers to its rocket-like tail lamps, a lyric in steel and mirrored chrome, as bright and beautiful as a ripe plum is sweet, and yet just ever so slightly obscene. Khrushchev would have dropped his shoe.

Surely a company, a country, that could produce such an object would last forever.
Read the full article,
here
. See the Times' photo gallery,
here
.

Retro Cars Photo Hat Tip:
Libby Spencer
.