Daily Kos has a big roundup on legislative developments on labor's "card check" agenda, "
Employee Free Choice Act
."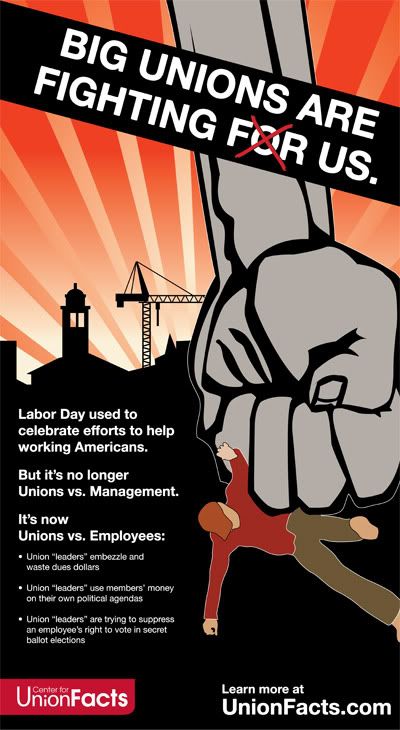 But don't miss Investor's Business Daily, "
Card-Check Threat Alive And Well
":


If you thought "card check" legislation that would kill off workers' right to a secret ballot is dead, think again. Despite public repudiation, it's back — with its advocates using sneakier tactics.

The Employee Free Choice Act would permit the establishment of new unions solely on the signatures of a company's employees, taken either on the fly or with union thugs standing in their doorways.

Besides denying workers a right to a secret ballot, "card check," as it's known, also forces federal arbitration onto companies for union contracts, ensuring that either unions dictate the wages they want or a federal bureaucrat will step in and do it for them based on politics, not economics.

It's a formula for disaster. This still-undead bill will shut plants, drive jobs abroad and ensure that few new jobs are ever created. Little wonder the public has turned a thumbs-down on it, and Congress has backed away. A recent Pew poll shows that 61% of Americans think labor unions have gotten too powerful.

But it hasn't stopped Big Labor. Card check remains its top goal, and instead of dropping a bad idea, it's switching tactics ....
Read the rest of the editorial,
here
.

See also, "
The Real Faces of EFCA
."

Image Credit:
Union Facts
.