Here's the AP headline, "
Arizona killings rock anti-illegal immigration movement, highlight risk of fringe activists
." The Holocaust Museum shooting took place on
June 10th
. Many commenters at that time linked the suspect James von Brunn to Scott Roeder, the man accused of killing abortionist George Tiller?. It's been nearly three weeks since Tiller was killed. So why is AP running stories to build up further support for the discredited DHS domestic terror report. None of these suspected killers represent the conservative movement. All Americans should be saddended by these events, but they should not be browbeaten into silence by the left wing press and the demonic netroots hordes so quick to exploit these tragedies.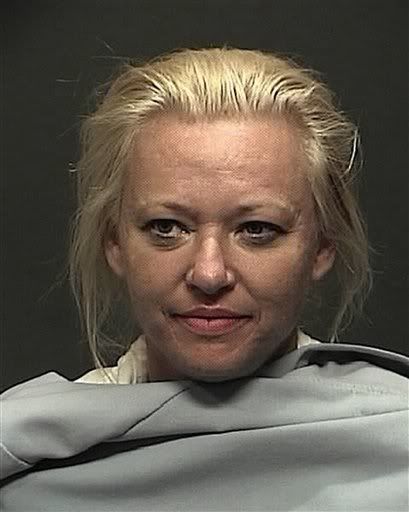 The tagline on Shawna Forde's anti-illegal immigration Web site says her group was "doing the job our government won't do." They wanted to patrol the border, but her small band of activists needed money to do it.

So, authorities say, Forde and two men dressed up as Border Patrol agents and broke into the southern Arizona home of a man they thought was a drug dealer, hunting for money or drugs to sell. They found neither, but killed the man and his 9-year-old daughter.

The May 30 killings rocked an anti-illegal immigration movement that prides itself on being vocal but not violent, and added to a growing list of activists accused of using violence to advance their aims.

In recent weeks, a white supremacist was accused of killing a black guard at the U.S. Holocaust Museum in Washington, D.C., and an ardent abortion foe allegedly shot and killed a prominent Kansas abortion doctor.

The possibility that activists in the anti-illegal immigration movement would use violence did not surprise Heidi Beirich, research director at the Southern Poverty Law Center, which monitors hate groups.

"We figured for a long time that we were going to get violence out of this movement," she said.

Her organization says the number of hate groups nationwide has risen 54 percent since 2000, fueled by opposition to Hispanic immigration and, more recently, by the election of the nation's first black president and the economic downturn.

Several groups focusing on stopping illegal immigration formed in the past half-dozen years, and many were drawn to southern Arizona, the busiest corridor in the nation for illegal border crossings.

"Some are using the movement to promote their own bigoted, racist ideology," said Brian Levin, director of the Center for the Study of Hate and Extremism at California State University-San Bernardino. "But I want to be clear: That's not everyone in the movement, and it poses a real problem."

He said the movement's message attracts people with ulterior motives. Larger groups try to patrol their ranks for potentially troublesome people but have no power to stop exiles like Forde from starting splinter groups, and even from using the Minuteman name.

After the killings, some of the movement's leaders quickly distanced themselves from Forde and her Minutemen American Defense group, saying they warned for months that she was potentially dangerous.

"We knew that Shawna Forde was not just an unsavory character but pretty unbalanced as well," said Chris Simcox, the founder of one of the original border watch groups, the Minuteman Civil Defense Corps.
Related: Jazz Shaw, "
Revenge of the Little People: Does right-wing political commentary really drive lonely fringe dwellers to commit hate crimes?
"