From the Washington Post, "
Obama Tours Former Nazi Concentration Camp
":

President Obama on Friday toured a former Nazi concentration camp that his great-uncle helped liberate, accompanied by German Chancellor Angela Merkel and Nobel Laureate Elie Wiesel, perhaps the camp's most famous prisoner.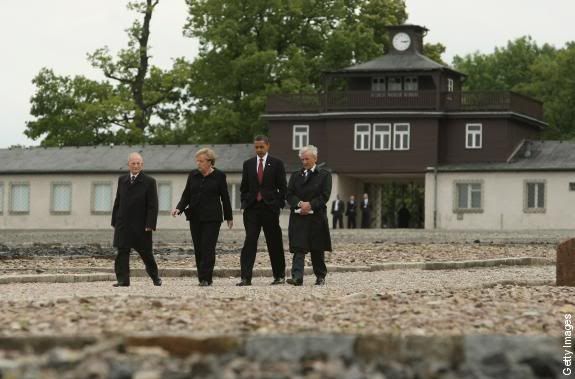 U.S. President Barack Obama, German Chancellor Angela Merkel, Buchenwald concentration camp survivor Elie Wiesel and International Buchenwald Committee President Bertrand Herz walk through the former Buchenwald concentration camp near Weimar, Germany. Obama is visiting the site after his stop in Cairo, where in his speech to the Muslim world he made an appeal against Holocaust denial.


See also, Atlas Shrugs, "Elie Wiesel to Obama: The World Hasn't Learned."
Photo Credit: New York Post.
Added: Elie Wiesel video, at the link. And CNN has video as well:
The transcript, from the Elie Wiesel foundation, is here.