From Gavin Atkins, "
Words Chosen Carefully
":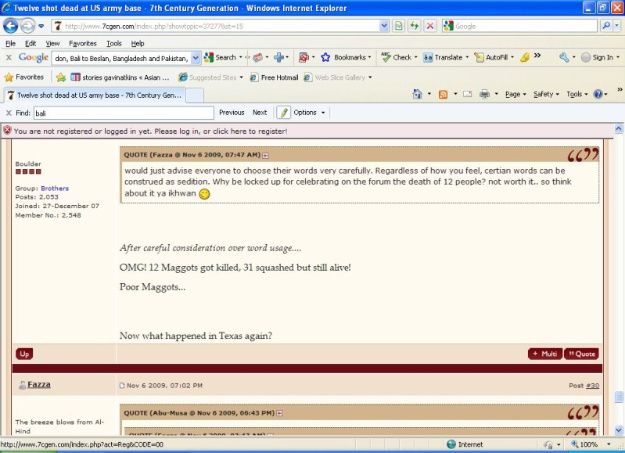 Following the massacre at Fort Hood, Texas, some Muslim forums have been advising commenters to show restraint – for example here:

would just advise everyone to choose their words very carefully. Regardless of how you feel, certian words can be construed as sedition. Why be locked up for celebrating on the forum the death of 12 people? not worth it.. so think about it

So having thought about it carefully, here are some of the responses:

OMG! 12 Maggots got killed, 31 squashed but still alive!

Poor Maggots...

And from "Abu Abrahim" of Talahassee Florida:

Ameen. al- Haqq. Do not delude yourselves into thinking we will not be called to account for our complacency and participation in the overt war against Allah and His deen, and yes I mean all of us living in the US, UK, AUS, NZ and the other houses of kufr and shirk.

And from Al-Siddiq of Boulder:

Indeed. We should all stop just relaying words and rather turn them into action. the state won't establish itself by sitting at home in front of a laptop/computer, nor will our ummah be delivered.

Let us make dua that Allah aids us in bringing His blessings back into the land. Ameen.
Hat Tip: John Hawkins and Conservative Grapevine.