My wife is home today with our two sons. They were watching the Oprah Winfrey Show when I got home (the boys are off from school today for the Veterans Day holiday). So, I normally wouldn't be watching Oprah, but I'm glad I did today. Oprah's guest today was Charla Nash, the Connecticut woman who was eaten alive by a 200-pound chimpanzee in February (see, "
Charla Nash Lost Eyes, Nose and Jaw in Chimpanzee Attack
").

The story is at Oprah.com, "
The Will to Live
." It turns out that photographers have been staking out Ms. Nash's hospital room, trying to get a picture of her without the veil she wears to cover her injuries. Ms. Nash was mauled beyond recognition. Oprah said she'd never seen anything like the extent of her injuries. I have to admit that viewing the show was even hard from me -- and I have a strong stomach. The Huffington Post has the full story with pictures, "
Charla Nash, Chimp Attack Victim, Shows Face On "Oprah" (PHOTOS)
."

Here's a picture of Ms. Nash with Travis, the chimpanzee said to have attacked her: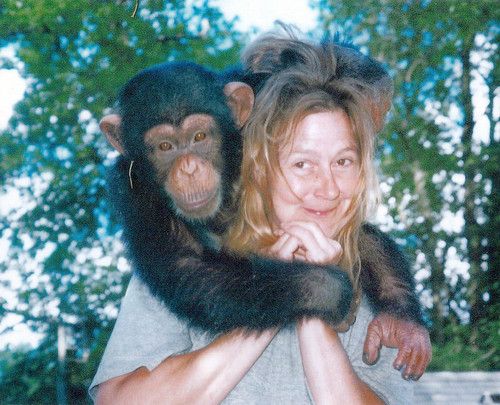 It seems almost unreal that an animal of that relative size could inflict such a devastating attack. According to
Oprah's page
:


On February 16, 2009, Charla went over to the Stamford, Connecticut, home of her friend and employer, Sandra Herold. According to news reports, Sandra called Charla because Sandra's 14-year-old pet chimpanzee, Travis, escaped and she needed help getting him back inside.

When Charla arrived, Travis savagely attacked her. Sandra called 911, and when police arrived, they found Charla in a devastating state. "I would never have imagined that an animal could have done that," emergency worker Andrea Repko says. "[Her hands] honestly looked like they went through a meat grinder."
Ms. Nash lost her eyes due to infection, and she's not a candidate for a face transplant. Oprah said that after sitting and talking to Ms. Nash, it was less upsetting to view her injuries.

Oprah interviewed Ms. Nash on her 56th birthday. She announced a couple of times that Ms. Nash wanted to reveal her looks to the world "on her own terms." There's a YouTube with a partial clip of the show here.
Also, check the support website,
Friends of Charla Nash
.