I didn't watch the whole thing, although Pink's aerial performance was awesome, as was the duet featuring Taylor Swift with Stevie Nicks. From Randy Lewis, "
Ladies Night at the Grammys
":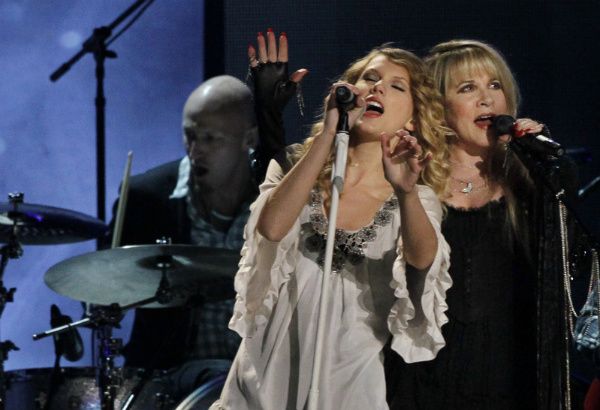 On a night in which Beyoncé set a record for women with six Grammy Awards, the reigning diva of R&B still had to share the spotlight with 20-year-old country-pop princess Taylor Swift, who collected four awards, including album of the year, for "Fearless," the biggest-selling album of 2009.

Swift's win at the end of Sunday night's 3 1/2 -hour ceremony seemed to stun the music-industry audience inside Staples Center in Los Angeles.

"I just hope you know how much this means to me . . . that we get to take this back to Nashville," a breathless Swift said onstage at the 52nd awards. "Oh, my God. Our family is freaking out, my dad and little brother are losing their minds in our living room. This is for my dad and all those times he said I could do anything I wanted."

Beyoncé's stellar evening included song of the year, a writer's award, for her effervescent endorsement of matrimony, "Single Ladies (Put a Ring on It)." But she and Swift lost their bids for record of the year to the dark horse win by the Southern rock group Kings of Leon for their hit "Use Somebody."

Beyoncé and Swift's combined 10 awards honored recordings that sold in numbers last year that defied the beleaguered music industry's downward trend in recent years, saluting broad-based success at a particularly difficult time in the record business.

"For me, genres have really become something that I don't think people focus on anymore," Swift said backstage. "Country music is my love. [But] when you're making music, I think the healthiest thing to do is remove titles or stereotypes from what you're trying to do. It's not country versus rap . . . it's not anything you don't make it. It's about trying to make an album you hope is good enough to win album of the year."
RTWT at the link.

Photo Credit: Ann Powers, "
Ann Powers on the 2010 Grammy Awards: It's Not All About the Music
."