Via
Fausta
, from Val Prieto, "
PUT YOUR FREEDOM TO WORK
"
I'm not going to sugarcoat or editorialize or plead or try to tug at your heartstrings today. Enough has been said and written about the the Black Spring Crackdown of 2003 and there is plenty of evidence out there to serve as absolute proof of what I am about to shove down your throat:

THERE ARE HUMAN RIGHTS VIOLATIONS IN CUBA.
THERE ARE NO CIVIL LIBERTIES IN CUBA.
THERE ARE POLITICAL PRISONERS IN CUBA.
THERE ARE PRISONERS OF CONSCIENCE IN CUBA.
THESE PRISONERS, AND THOSE WHO SUPPORT THEIR CAUSE, ARE SUBJECTED TO UNIMAGINABLE BRUTALITY AND INHUMANITY AND REPRESSION.

And you know what? You are an accomplice to the above. Yeah, that's right. I said you are complicit in the violations of human rights and the torture of human beings.

Because you are.
More
here
.

Also, Marc Masferrer, "
March 18, 2010 — 7 Years After the Cuban 'Black Spring'
."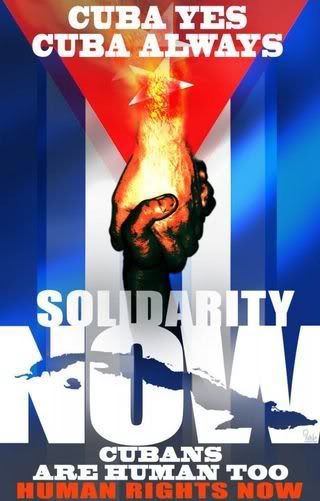 See also, "
The Plight of Cuba's Hunger Strikers
":
Today marks the seventh anniversary of a vicious crackdown on opponents of the Castro regime in Cuba. In the spring of 2003, the news agenda was dominated by the preparations for the US-led invasion of Iraq. In Havana, 90 so-called "agents of the American enemy" were arrested. Among those incarcerated were teachers, doctors, union organisers, journalists, human rights activists and dissidents. Seventy-five of those arrested were tried in circumstances which fell short of international standards. They were given jail sentences ranging from six to 28 years. As bombs fell on Baghdad, few voices were raised in protest at events in Cuba.

The anniversary this year is likely to receive more attention. One of those arrested in 2003, Orlando Zapata Tamayo, died last month following an 80-day hunger strike. Another dissident, Guillermo "Coco" Farinas, who began a hunger strike on February 24, is perilously close to death. A third political prisoner, Ariel Sigler Amaya, who has been in prison for 20 years, is in extremely poor health in a Havana hospital and, according to his family, is receiving inadequate treatment ...
More
here
.
RELATED: Henry Gonzales, at Pajamas Media, "Cuba's Unknown Dissidents."