And
the U.S. as well
:
An organized boycott of the goods and services of a rogue nation is an allowable expression of opinion. Had the world decided to boycott the U.S. after our invasion of Iraq, we might well be better off today.
The full post is
here
: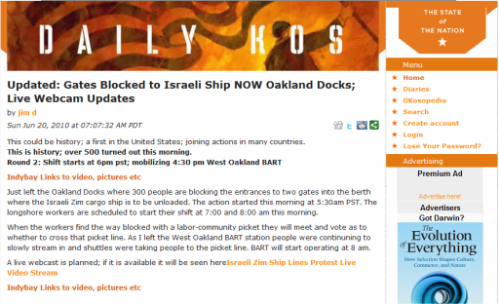 And remember, the Kos people are the "mainstream of the Democratic Party."

The world is upside down.
And in related news, "Israeli Easing of Blockade of Gaza Draws Praise of U.S." (Via Memeorandum.) Of course, easing the blockade will make it easier for Hamas to import weapons for jihad against Israel, but that's what this is all about in the long run. There is no humanitarian crisis in Gaza.