From Angelo Codevilla, at American Spectator (a little on the paleocon-ish side for me on the foreign policy side, otherwise, a phenomenal essay):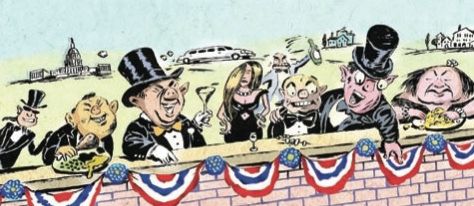 The ruling class is keener to reform the American people's family and spiritual lives than their economic and civic ones. In no other areas is the ruling class's self-definition so definite, its contempt for opposition so patent, its Kulturkampf so open. It believes that the Christian family (and the Orthodox Jewish one too) is rooted in and perpetuates the ignorance commonly called religion, divisive social prejudices, and repressive gender roles, that it is the greatest barrier to human progress because it looks to its very particular interest -- often defined as mere coherence against outsiders who most often know better. Thus the family prevents its members from playing their proper roles in social reform. Worst of all, it reproduces itself.

Since marriage is the family's fertile seed, government at all levels, along with "mainstream" academics and media, have waged war on it. They legislate, regulate, and exhort in support not of "the family" -- meaning married parents raising children -- but rather of "families," meaning mostly households based on something other than marriage. The institution of no-fault divorce diminished the distinction between cohabitation and marriage -- except that husbands are held financially responsible for the children they father, while out-of-wedlock fathers are not. The tax code penalizes marriage and forces those married couples who raise their own children to subsidize "child care" for those who do not. Top Republicans and Democrats have also led society away from the very notion of marital fidelity by precept as well as by parading their affairs. For example, in 1997 the Democratic administration's secretary of defense and the Republican Senate's majority leader (joined by the New York Times et al.) condemned the military's practice of punishing officers who had extramarital affairs. While the military had assumed that honoring marital vows is as fundamental to the integrity of its units as it is to that of society, consensus at the top declared that insistence on fidelity is "contrary to societal norms." Not surprisingly, rates of marriage in America have decreased as out-of-wedlock births have increased. The biggest demographic consequence has been that about one in five of all households are women alone or with children, in which case they have about a four in 10 chance of living in poverty. Since unmarried mothers often are or expect to be clients of government services, it is not surprising that they are among the Democratic Party's most faithful voters.

While our ruling class teaches that relationships among men, women, and children are contingent, it also insists that the relationship between each of them and the state is fundamental. That is why such as Hillary Clinton have written law review articles and books advocating a direct relationship between the government and children, effectively abolishing the presumption of parental authority. Hence whereas within living memory school nurses could not administer an aspirin to a child without the parents' consent, the people who run America's schools nowadays administer pregnancy tests and ship girls off to abortion clinics without the parents' knowledge. Parents are not allowed to object to what their children are taught. But the government may and often does object to how parents raise children. The ruling class's assumption is that what it mandates for children is correct ipso facto, while what parents do is potentially abusive. It only takes an anonymous accusation of abuse for parents to be taken away in handcuffs until they prove their innocence. Only sheer political weight (and in California, just barely) has preserved parents' right to homeschool their children against the ruling class's desire to accomplish what Woodrow Wilson so yearned: "to make young gentlemen as unlike their fathers as possible."

At stake are the most important questions: What is the right way for human beings to live? By what standard is anything true or good? Who gets to decide what? Implicit in Wilson's words and explicit in our ruling class's actions is the dismissal, as the ways of outdated "fathers," of the answers that most Americans would give to these questions. This dismissal of the American people's intellectual, spiritual, and moral substance is the very heart of what our ruling class is about. Its principal article of faith, its claim to the right to decide for others, is precisely that it knows things and operates by standards beyond others' comprehension.

While the unenlightened ones believe that man is created in the image and likeness of God and that we are subject to His and to His nature's laws, the enlightened ones know that we are products of evolution, driven by chance, the environment, and the will to primacy. While the un-enlightened are stuck with the antiquated notion that ordinary human minds can reach objective judgments about good and evil, better and worse through reason, the enlightened ones know that all such judgments are subjective and that ordinary people can no more be trusted with reason than they can with guns. Because ordinary people will pervert reason with ideology, religion, or interest, science is "science" only in the "right" hands. Consensus among the right people is the only standard of truth. Facts and logic matter only insofar as proper authority acknowledges them.
RTWT
.