Okay, here's bringing you a comparative and international perspective on the radical left's gay marriage agenda.
See the report at
The Australian
, "
Gay unions a 'risk to kids', claims Victoria's deputy chief psychiatrist
":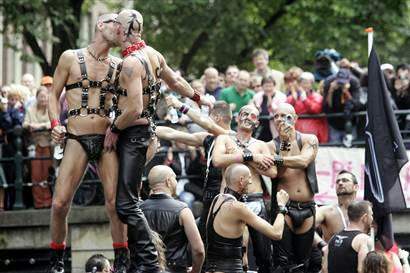 ONE of Australia's leading psychiatrists has joined forces with 150 doctors lobbying the Federal Government to ban same-sex marriage.

Professor Kuravilla George, who is Victoria's deputy chief psychiatrist and the State Government's equal opportunities champion, claims that gay marriage poses a health risk to society.

In a letter to the Senate's inquiry into marriage equality, the group of doctors wrote that it was "important for the future health of our nation" to retain the definition of marriage as being between a man and woman.

"We submit the evidence is clear that children who grow up in a family with a mother and father do better in all parameters than children without," they wrote.

News of the letter, revealed in today's Sunday Herald Sun, follows Attorney-General Nicola Roxon's announcement yesterday that she would vote for gay marriage when the chance came later this year.

Ms Roxon was speaking as thousands of Australians held protest marches across the country calling on Ms Gillard to change her stance after US President Barack Obama said that same sex couples should be able to wed.

Australia passed an amendment to its laws in 2004 explicitly defining marriage as between a man and woman, but there are several bills before the parliament calling for the right to be extended to same-sex couples.
Also at the Australian Broadcasting Corporation, "
Doctors' group says heterosexual marriage better for kids
."
But here's gay radical Jeremy Sear at Crikey, "
Herald Sun falsely implies that "doctors" think gay marriage "a risk to kids"
":
Any unprotected sexual behaviour comes with the risk of HIV and syphilis, not just homosexuality. What's wrong with homosexual behaviour being treated as normal? On what basis do they claim it isn't and shouldn't be? And as for the headline assertion that kids grow up better in families "with a mother and father" – unless Prof George has commissioned a brand-new study which genuinely would be actual news ( which the Herald Sun doesn't claim that he has), then that long-discredited claim will without doubt be based on old studies comparing two parent families with one parent families, rather than comparing the the kids of homosexual parents with the kids of heterosexual parents. (You'll note how George and his mates fudge the claim a little so it implies the latter but is sort of within the ambit of the former. That's the level of honesty you get from anti-equality advocates.)
Sear's Twitter feed is
here
.
RELATED
: At the
Sydney Morning Herald
, "
Push for Gillard to review gay marriage
":
ARGENTINA'S President Cristina Kirchner will write to Prime Minister Julia Gillard to encourage her to support same-sex marriage, after an Australian pair became the first foreign same-sex couple to marry in the South American country.

Prominent same-sex marriage campaigner Alex Greenwich, the national convener of Australian Marriage Equality, married his long-term partner Victor Hoeld in a ceremony in Buenos Aires on the weekend. Same-sex marriage has been legal in Argentina, where more than 90 per cent of citizens identify as Catholic, since July 2010.

Mr Greenwich, of Sydney, was jubilant yesterday about his wedding, but expressed regret that he had needed to leave Australia to marry.

''Our wedding has been the happiest day of my life, and I will return to Australia more energised than ever before to achieve marriage equality,'' he said.

''As special as our wedding was, it is a shame that we had to travel to a foreign country that affords us more rights than the country we live in and love.''

Until recently, Buenos Aires limited marriage to residents of Argentina. But this requirement was dropped after Greens Senator Sarah Hanson-Young wrote to Buenos Aires mayor Mauricio Macri, asking him to make an exception on ''compassionate grounds'' for couples from countries that do not allow same-sex marriage.

Ms Gillard and Opposition Leader Tony Abbott, who both oppose same-sex marriage, were last week accused of being out of step with their international counterparts after US President Barack Obama endorsed gay marriage and New Zealand Prime Minister John Key said he did not oppose it. British Prime Minister David Cameron has previously expressed support for same-sex marriage, and same-sex marriage has been legal in Canada since 2005.
Quite the globalized campaign, you think?