On the heels of the
Washington Post
's sordid hit piece attacking Mitt Romney as an alleged "anti-gay bully," here's comes a new series from the
Los Angeles Times
lionizing countries making "investments" in nationalized healthcare and warning against possible disruptions to the purported healthcare "jobs revival" if ObamaCare is struck down by the Supreme Court in June.
Yesterday's report is here, "
Global push to guarantee health coverage leaves U.S. behind
." And at today's paper,
"Healthcare jobs fuel revival in Pittsburgh
":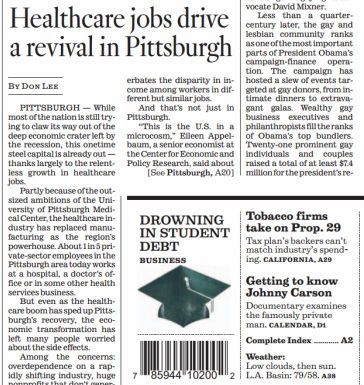 Nationwide, healthcare services have added some 770,000 to their payrolls since the start of the economic recovery in June 2009 — about a third of all new jobs, according to the U.S. Labor Department.

Absent the hiring related to healthcare, the country's unemployment rate would be 9.8% today instead of 8.1%, said economist Charles Roehrig of the Altarum Institute, a healthcare policy group in Ann Arbor, Mich. Pittsburgh's latest jobless figure is 7.1%.

Even though healthcare's growth remains solid — the industry added 19,000 jobs nationwide in April — Roehrig and other experts see an inevitable retrenchment.

Spending for medical care is nearing one-fifth of the American economy, much more than in other developed nations and beyond what governments, businesses and consumers can afford.

Uncertainties hang over President Obama's healthcare overhaul while theU.S. Supreme Court weighs the constitutionality of the law — a law that is likely to accelerate the already fast pace of consolidation in the industry.

"We're reaching this odd era where the growth rate of resources [is] rapidly declining at the same time the needs for healthcare are going up," Roehrig said.

Healthcare has fueled job growth for a generation. When Pittsburgh's steel industry began its collapse in the early 1980s, healthcare employment was a third of manufacturing's and the University of Pittsburgh Medical Center was little more than an operator of a single psychiatric hospital.

Today, from his suite on the 62nd floor of downtown's tallest building, once owned by U.S. Steel Corp., UPMC Chief Executive Jeffrey A. Romoff has a wide view of the city's cleaner skies and rivers — and of much of his $10-billion empire.
Notice how ObamaCare is accelerating "the already fast pace of consolidation in the industry," and by implication, if ObamaCare is struck down, this healthcare jobs boom will wither on the vine.
How typical.
Check back tomorrow for an update on the gloom!!