We always head south on the Las Vegas Boulevard to stop for gas and drinks before getting on the freeway. And I always notice the busloads of tourists who're stopped at that darned sign. I think, "One of these days we'll stop to take some souvenir photos," but we never do.
In any case, the
Los Angeles Times
reports on the "Welcome to Fabulous Las Vegas Nevada" sign.
See, "
Vegas sign a tourist attraction in its own right
":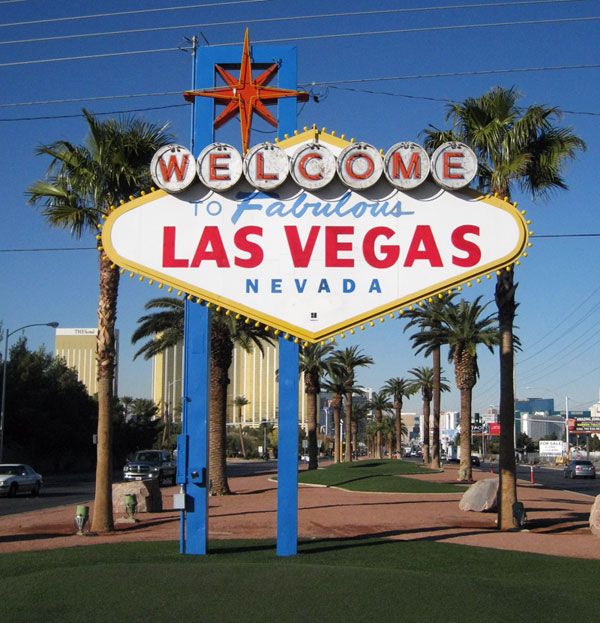 LAS VEGAS — It sits along a stretch of median on the less-glamorous south end of this city's glitzy gambling Strip, a stubborn holdover from another era. Yet, as the days turn to night and back into day, it beckons as many tourists, human tumbleweeds and adventure-seekers as any newfangled casino.

They come to see, touch and photograph the iconic "Welcome to Fabulous Las Vegas Nevada" sign, a 1959 scramble of colors, typefaces and flashing light bulbs. They come in droves, as if on some obligatory Vegas pilgrimage, arriving in taxis, rental cars, stretch limos, golf carts, pickup trucks, motorcycles, double-decker tour buses. One woman even arrived on foot, pulling a suitcase — a wanderer defying the scorching desert heat.

The reason: There's just something, well, fabulous, about this sign.

For one thing, it's survived 53 years in a town with a penchant for bulldozers, wrecking balls and spectacular building implosions, where a 20-year-old resort is considered as ancient as the pyramids.

Designed by sign-maker Betty Willis, who never sought a copyright for her work and instead donated it to her beloved city, the 25-foot-tall kitschy cartoon has become a full-flush symbol of this gambling mecca, listed on the National Register of Historic Places.

"I just think it's cool. Who knows if those Rat Pack guys once stood here," Utah resident Marsha Hatch, 48, said on a recent Saturday evening. "It's like the Hollywood Walk of Stars, but it's ours. This sign belongs to Vegas."

Willis, now long retired, doesn't speak to reporters anymore. But in past interviews she said that back in 1959 — when Wayne Newton was a teenager and Frank Sinatra joined Dean Martin for the first time on stage at the Sands — the sign's diamond shape was unlike anything on the Strip. She added "fabulous" as the most fitting word to describe this 24-hour resort town.
More at
the link
.
PHOTO CREDIT
:
Wikipedia
.