Ho hum, here we go again.
We'll see how "tough" the Western response is.
At London's Daily Mail, "
'We have an entire army thirsty for your blood': ISIS releases new video appearing to show Jihadi John beheading second Japanese hostage in desert after Tokyo government fails to hand over $200m
."
And watch, at Gateway Pundit, "
BREAKING!! ISIS BEHEADS JAPANESE HOSTAGE KENJI GOTO (Video— Photos)
."
Also, "
'Jihadi John' Makes No Mention of Fate of Captured Jordanian Pilot
."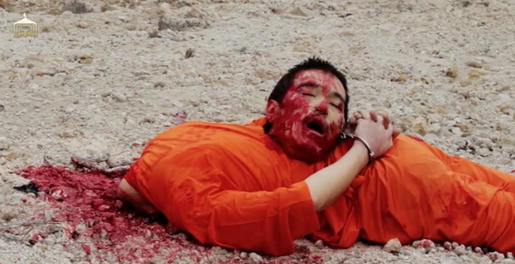 ADDED
: At WSJ, "
ISIS Video Claims to Show Beheading of Japanese Hostage Kenji Goto: Japan's Prime Minister Shinzo Abe, Obama Condemn Purported Execution of Journalist
":
TOKYO—A video showing the apparent beheading of Japanese journalist Kenji Goto by an Islamic State militant marks a tragic turn in a nearly two-week hostage drama, and casts into question the role of pacifist Japan in the U.S.-led fight against terrorism.

The video was released early Sunday Tokyo time, following days of efforts to secure the hostage's release in exchange for an Islamist prisoner held in a Jordanian prison. In a previous video, Islamic State had threatened to kill Mr. Goto unless the prisoner was released by sundown Thursday. That deadline passed without any signs of progress.

Jordan had expressed willingness to release the prisoner in exchange for a Jordanian military pilot, First Lt. Muath al-Kasasbeh, but it said it needed first to see proof the pilot was still alive. No such proof was forthcoming, and the latest video didn't mention the pilot.

In the video, a militant said the execution of Mr. Goto, a freelance journalist known for traveling to conflict zones, was in retaliation for Japan's participation in the U.S.-led campaign against Islamic State, according to Site Intelligence Group, an organization that tracks extremists. A week earlier, a video claimed to show that another Japanese hostage, Haruna Yukawa, had been killed.

In Tokyo, Prime Minister Shinzo Abe called an emergency meeting of cabinet members early Sunday.

"I feel strong anger at this act of terrorism, which is outrageous and the height of barbarism," Mr. Abe said. "We will not forgive terrorists, and we will work alongside the international community to make them pay for their sins."

Japanese officials said they believed the video was authentic but were still analyzing it. The U.S. said it was also analyzing the video.

In a statement, President Barack Obama condemned the "heinous murder" of Mr. Goto and thanked Japan for its assistance to the Middle East. "Standing together with a broad coalition of allies and partners, the United States will continue taking decisive action to degrade and ultimately destroy ISIL," Mr. Obama said.

Under Mr. Abe, Japan has sought to contribute more to U.S.-led efforts to fight terrorism. The first video in which the militants threatened to kill the two Japanese hostages appeared Jan. 20, amid Mr. Abe's visit to Israel during a tour of the Middle East. The video took direct aim at a $200 million package of humanitarian aid he had offered earlier in the trip to help countries battling Islamic State.

On Sunday, Mr. Abe said Japan would further expand aid to the Middle East in areas such as food and medical care...
More
.