I could do "Democrat Dishonesty and Denial" roundups 24/7, but this oughta hold us for awhile, lol.
President Obama is emphatically claiming that his administration did not, in fact, mislead the American people on ObamaCare. Noah Rothman has the rundown, "
Gruber-gate gets to Obama: 'No, I did not' mislead Americans
." (Via
Memeorandum
.)
In this regard, the President's no better than the most dishonest and venal leftist fever-swamp trolls, like Scott Lemieux of Lawyers, Lies and Grubbing. Patterico has the smackdown in the leftist liar Lemieux, "
Fun with Scott Lemieux on Halbig
, " and "
I F*cked Up, I Trusted Scott Lemieux
."
Yeah, well, you never want to "trust" those
deranged f-ks
at LGM. Never.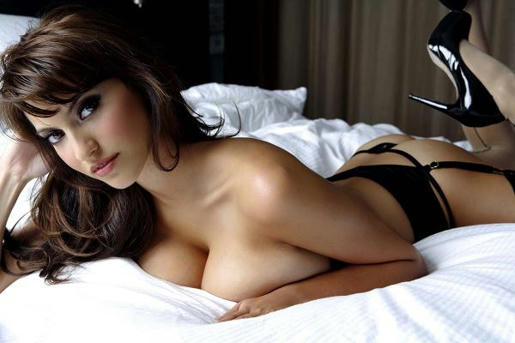 But enough about leftist lies and derangement. Bring on the beautiful babes!
Okay, see Pirate's Cove, "
Sorta Blogless Sunday Pinup
," and "
If All You See……is a sea that has flooded liberal cities hundreds of feet, you might just be a Warmist
."
Also at the Other McCain (from last week, "
Rule 5 Sunday: Flowtation
."
More at Goodstuff's, "
GOODSTUFFs BLOGGING MAGAZINE (164th Issue)
."
Animal Magnetism has "
SATURDAY GINGERMAGEDDON
."
Also from Ms. EBL, "
Space exploration, Sexism, Feminism and Fashion Rule 5
."
Also at First Street Journal, "
Rule 5 Blogging: Sea Duty
."
At Knuckledraggin', "
Noon Titty Squish
," and "
Somebody's getting a nice homecoming
."
And at Fishwrapper, "
Katy Perry's naughty photos (and huge breast) have leaked… damn!
"
More at the Chive, "
Emma Watson goes topless… sweet baby Jesus!
"
At Maggie's Farm, "
Saturday morning links
."
From Bob Belvedere (the consummate breast-master), "
On Saving America — What to Do?
"
More at Classy Bro, "
13 Reasons Why We Love Dat Gap
."
At 90 Miles From Tyranny, "
Morning Mistress
."
And from Blackmailers Don't Shoot, "
#ShirtGate Rule 5: Chicks in Space!
"
In a Mad, Mad, Mad, Mad World has the "
Friday Pinup
."
The Hostages, "
Big Boob Friday
."
And at Odie's, "
EXCELLENCE ~OR~ Rule 5 Woodsterman Style
."
Finally, from Doug Hagin, "
DALEYGATOR DALEYBABE JESSI MALAY
."