So, that's what the whole "#Cuckservative" thing is all about?
And here
Robert Stacy McCain
was saying it was a leftist meme. I guess not.
At American Renaissance, "
An Open Letter to Cuckservatives
":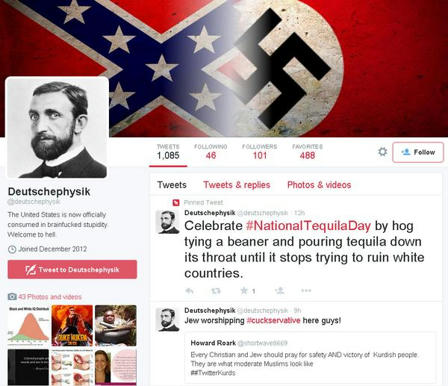 You aren't just betraying your principles.

Dear Cuckservative,

You are not alone. Like you, Erick Erickson at RedState.com, Matt Lewis at the Daily Caller, Taylor Millard at Hot Air, the blogger Ace of Spades, and Jim Harper with the Cato Institute are all squirming under the lash of this new coinage. They are squirming because a single word–cuckservative–lays bare the rot at the heart of your movement: American conservatism can conserve nothing if it cannot conserve the nation's founding stock. I'll put it bluntly: Nothing you love will survive without white people.

Do you stand for limited government and a balanced budget? Count your black and Hispanic allies. Do you admire Thomas Jefferson? He was a slave-holder who will end up on the dung heap with the Confederate flag. Do you care about stable families and the rights of the unborn? Look up illegitimacy, divorce, and abortion rates for blacks and Hispanics. Do you cherish the stillness at dawn in Bryce Canyon? When the park service manages to get blacks and Hispanics to go camping they play boom-boxes until 1:00 a.m. Was Ronald Reagan your hero? He would not win a majority of today's electorate.

Do you love Tchaikovsky? Count the non-whites in the concert hall. Do you yearn for neighborhoods where you can leave the keys in your car? There still are some; just don't expect them to be "diverse." Are hunting and firearms part of your heritage? Explain that to Barack Obama or Sonia Sotomayor. Are you a devout Christian? Muslim immigrants despise you and your faith. Do you support Israel? Mexicans, Haitians, Chinese, and Guatemalans don't.

Your great festival – CPAC – is as white as a meeting of the Sons of Confederate Veterans. That's because blacks and Hispanics and even Asians don't share your dreams. You've heard the old joke: "What do you call the only black person at a conservative meeting? The keynote speaker." Outreach doesn't work. You can't talk someone into loving what you love. Faith, patriotism, duty, and honor come from deeply cultural, religious, and ancestral sources you can't reach.

Why do you evoke Martin Luther King when you call for a "colorblind" America? You know he wanted quotas for blacks. You evoke King because you think he'll help you silence blacks and liberals. But it doesn't work, does it? That's because only whites–and Asians, when it suits them–even think in terms of "colorblindness." Blacks and Hispanics will squeeze every unfair advantage out of you they can. At what point will they ever abandon their aggressive racial agenda? When they're the majority just think how hard they'll squeeze your grandchildren...
What a load of crap, and there's
still more
.
And this is the kind of conservatism
Stogie at Saberpoint
is all about? I don't know, but count me out brother, in any case. CPAC ain't all white, you cracker idiots. And true conservatism knows no color.
I really hate this moment of ideological purity we're having, but as folks can see I've taken my stand and it's not with the dolts of the racist Deutschephysik battalions.