I'm a little late on this story but it's worth posting considering the continued fallout from the JournoList scandal.

It turns out that Brian Ries of The Daily Beast launched a coordinated attack on Sarah Palin's Facebook account this week that temporarily succeeded in deleting Palin's note on New York's Ground Zero Mosque. Here's a report from yesterday, "
Palin Facebook Post on Ground Zero Mosque Deleted: Users complain about post, call it "racist/hate speech
." And Pamela Geller fingers Ries at Atlas Shrugs: "
The Beast Behind Facebook Fascism: Censoring Palin
."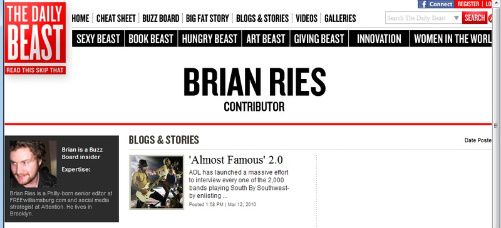 Ries is bragging about it on
Twitter
and
Tumblr
:
And at The Daily Beast, "
My Facebook War With Palin
":
When a Facebook post by the ex-governor slamming the "Ground Zero Mosque" disappeared, Brian Ries realized the reach of his effort to confront her on hate speech—and the wrath of her supporters.

Sometime Thursday morning I realized Sarah Palin's controversial Facebook note about the "Ground Zero Mosque" had vanished. In its place was an error message that explained the network "could not find the note you requested." It had "either been deleted" or had never existed in the first place.

In fact, the post had been removed by Facebook's automated systems, according to a spokesman, the result of a grassroots campaign by Tumblr users to report the former governor's post as a "hate speech." It was an idea introduced by a Tumblr blogger the media has identified as "moneyries." Hello everyone, that's me. And soon I was inundated with messages from her fervent fans.

Those of us following Palin's comments in the media throughout the past week or so would know that the former governor of Alaska had issued a screed on Facebook, her preferred form of communication these days, outlining the reasons she opposed the construction of an Islamic community center just a few blocks from Ground Zero.

The original note, titled "An Intolerable Mistake on Hallowed Ground," was a response to comments made by New York City Mayor Michael Bloomberg in which he argued it's un-American to "keep people from building a building," especially in a city that stands for "tolerance and openness." It made me wonder where Facebook, a government unto itself with a user base larger than the U.S. population, would outline the lines of offensive material under their Terms of Service when one's simply preaching "common moral sense," as Palin would call it. Or, if its own laws on censorship and free speech could rely on its users to characterize user content as intolerant, or in this case, "hate speech," themselves.

The truth is, many Internet communities lack any real transparency when it comes to governing the words of its users. Facebook's free speech policies are largely undefined, and it took the coordinated actions of a community a fraction of its size to prove it.

That all began when I decided to conduct a little experiment.
Read the rest here.

No one should be surprised at this.
Still, I'm somewhat dumbstruck at the genuinely brazen use of "hate speech" allegations to attack and destroy political opponents on social networking sites (a new frontier, I guess, but censorship nevertheless). What's also interesting is that there's little evidence that Ries' attack was fundamentally a protest about erecting an Islamist victory mosque above the recovery zone at Ground Zero. This is more an attack on Sarah Palin personally, driven by pure partisan extremism, ideological hatred, and misogynistic demonism.
And what's this with "hate speech" as the weapon of choice? There's no such thing as "hate speech" in the United States (except in college campus PC codes), but the left is picking up on totalitarian neo-communist campaigns around the world that have increasingly worked in suppressing the speech of those battling existential jihad.
This episode, while essentially a small blip in the larger political battles, is nevertheless immensely indicative of the shape of the enduring conflict. This attack on Palin is grounded in evil, and Ries is wallowing in it like a dying animal in the mud. It's sickening.
BONUS: Here's a leftist basically arguing "free speech for me, but not for thee": "Blogger Gets Palin's Facebook Post Yanked and Palinistas Throw a Hissy Fit."