Boom!
That Pew Research poll put RAWMUSCLEGLUTES into meltdown mode.
Here's the headline at Jammie Wearing Fool, "
Andrew Sullivan on Suicide Watch
." Folks can click through at the link, but here's the opening graf at RMG's:
The Pew poll is devastating, just devastating. Before the debate, Obama had a 51 - 43 lead; now, Romney has a 49 - 45 lead. That's a simply unprecedented reversal for a candidate in October. Before Obama had leads on every policy issue and personal characteristic; now Romney leads in almost all of them. Obama's performance gave Romney a 12 point swing! I repeat: a 12 point swing.
It's an AIDS-related freak-out, no doubt. RMG can't believe Romney's got the advantage among women, and here's the chart on Romney's gains on helping even greater likelihood to help the middle class: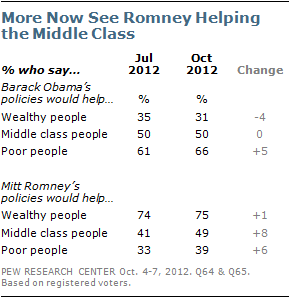 It's terrible, just terrible.
Jammie
snarks
: "Just roll one up and get stoned, Andy."