From Edward Luce at the Financial Times, "
Obama will need more than luck
":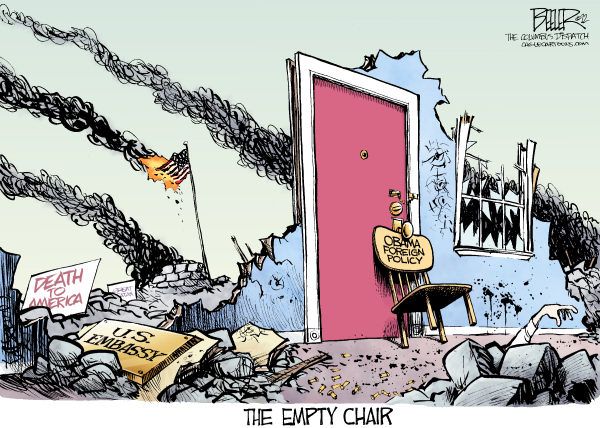 It must be hard being Barack Obama. Midway through his opponent's latest calamity, the president last week sat down for a grilling by the five friendly ladies on The View, the daytime television chat show. At the start of what can be described as a gentle conversation, Mr Obama joked that he was mere "eye candy" for his hosts. The news media complained that Mr Obama only very rarely makes himself available for their more probing questions. But of course, smart politicians go to where the voters are. Whether he's slow jammin' with Jimmy Fallon or conceding a kiss to the First Lady at a sports game, the president knows what most people respond to. Mitt Romney, on the other hand. But I digress.

There can be little doubt that Mr Obama is a lucky candidate. This time four years ago, John McCain reminded everyone of his advancing age and dubious health by selecting a running mate who thought Africa was a country. After the financial meltdown, Mr McCain then made the rash error of calling for a suspension of the campaign. Mr Romney is on the verge of a similar fate.

Given the latest polls, which show Mr Obama with six- to 10-point leads in the key swing states, Republican donors are debating whether to divert cash to the congressional election, where they could at least hold up the firewall against Mr Obama. Paul Ryan, meanwhile, is looking for ways to salvage his credibility as a future White House contender. Such are the rumours that disorient failing campaigns.

So far, Mr Obama has played along mostly as a bystander. Staff at the president's Facebook-style headquarters in Chicago may dispute that description (their targeting techniques are light years ahead of their rivals in Boston). But Mr Romney has inflicted most of the damage on himself. Last week he had the decency to admit it. "That's not the campaign," Mr Romney said in response to the fallout from of his infamous "47 per cent" remark at a private fundraiser. "That was me, right?"

Yet there are reasons to pause before agreeing with the comedian Jon Stewart's declaration that Mr Obama is "the luckiest dude on the planet". For one, debating is not Mr Obama's strong point...
Continue reading
.
Luce is a bit hard on Romney, and he doesn't factor in the corrupt Obama-Media, but it's true that O's riding on his lucky charms. Again, the debates could be the Romney game-changer, so we'll have to hold on to our seats. If we can trust the polls, there's
a tightening
in the race. A poor Obama showing tomorrow could make it tighter still.
CARTOON CREDIT
:
Nate Beeler
.