The Islamization of America proceeds apace.
At the Los Angeles Times, "
More than 500,000 in U.S. could be at risk of female genital excision
":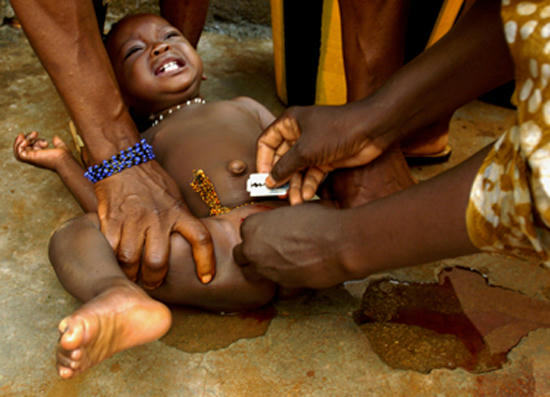 Nearly 507,000 women and girls in the United States could be at risk of female genital excision, including 57,000 in California, a new study has found.

That is more than twice the number that were thought to be at risk in 2000, the last year for which estimates are available.

Analysts at the Population Reference Bureau, a nonprofit research organization in Washington, attributed the preliminary findings released Friday to an increase in immigration from countries where the practice is common, including Egypt, Ethiopia and Somalia.

It is unclear how many families continue the practice after moving to the U.S., but community activists say there is anecdotal evidence of girls being sent back to their parents' home countries for "vacation cutting" and of traditional cutters traveling to the U.S. to circumcise girls in this country.

To estimate the number who may have undergone the procedure or be at risk, the research group used data collected by the Census Bureau for the 2013 American Community Survey to determine the number of women and girls whose families originate in countries where female genital excision is practiced. It then applied the prevalence rates in those countries to the numbers in the U.S.

The methodology is similar to that used by the Centers for Disease Control and Prevention in a study that found about 168,000 women and girls were at risk of genital excision in the U.S. in 1990, said Mark Mather, the group's associate vice president for U.S. programs.

Campaigners have been urging the government to update its estimate, and the CDC is expected to release new figures this year.

"What's happening around the other side of the world has implications for families here in the U.S.," Mather said. "We're seeing more and more of this with immigration and economic ties. Issues that most people might not have considered before may be emerging in their small towns and communities."

California is the state with the highest at-risk population, followed by New York (48,000) and Minnesota (44,000), the Population Reference Bureau found.

"California historically has been a very important gateway state for immigrants, and I think that's reflected in the numbers," Mather said.


That is also true for many of the other states with high at-risk populations. But Mather said he would expect to see more of these families spreading across the U.S. in the coming years.
Turns out those Ethiopian, Egyptian, and Somalian immigrants aren't assimilating as fast as we'd like, or something.
More at
the link
.
Female genital mutilation is illegal in the U.S., although the Obama administration doesn't enforce the law, especially since Barack Hussein privileges
Islamic values
above universal human rights.