From Bret Stephens, at the
Wall Street Journal
: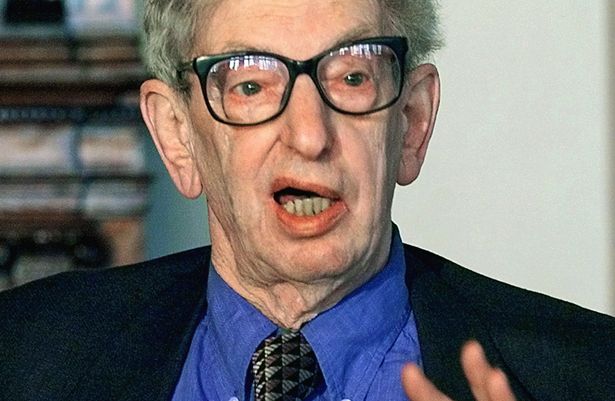 In 1987, Jean-Marie Le Pen called the gas chambers of Nazi concentration camps "just a detail in the history of World War II." Explaining himself a few years later, the head of France's National Front said: "If you take a 1,000-page book on World War II, the concentration camps take up only two pages and the gas chambers 10 to 15 lines. This is what one calls a detail."

Such remarks cemented Mr. Le Pen's reputation as Europe's leading fascist. So what was one to make of the reception accorded the publication, in 1994, of "The Age of Extremes," by the Marxist historian Eric Hobsbawm?

The book—subtitled "a history of the world, 1914-1991"—was hailed as "bracing and magisterial" by the New York Times. "Facts roll off Hobsbawm's pages like thunderbolts," gushed the New Republic. But search the index, and the words "Holocaust" and "Auschwitz" never appear. Nazi concentration camps get about 10 or 15 lines. As for the Soviet gulags, Hobsbawm devoted exactly two paragraphs to them.

Hobsbawm, who died in London Monday at age 95, was no Holocaust denier. Nor was he ignorant of the human toll imposed by communism, the ideology to which he remained faithful nearly his whole life. He acknowledged that the victims of Stalin's tyranny "must be measured in eight rather than seven digits," adding that the numbers are "shameful and beyond palliation, let alone justification."

Yet Hobsbawm did justify them....

None of this should have been surprising coming from a man who, over the years, gave his political assent to everything from the Nazi-Soviet Pact to the Soviet invasion of Hungary. Asked by the BBC whether the achievement of a communist utopia would have justified "the loss of fifteen, twenty million people," he answered "Yes."

Yet what are we to make of the warmth with which Hobsbawm is now being eulogized? Only this: That the world is far from recognizing that the crimes of communism were no less monstrous than those of Nazism. In treating the gulag as a detail of his history, Hobsbawm proved himself to be the moral equivalent of Mr. Le Pen. And in treating Hobsbawm as a paragon among historians, his admirers prove they've learned nothing from history itself.