I cracked open the hard-copy version of the Los Angeles Times this morning with my coffee. Sally Ride's obituary is front page news, "
Sally Ride dies at 61; first American woman in space
."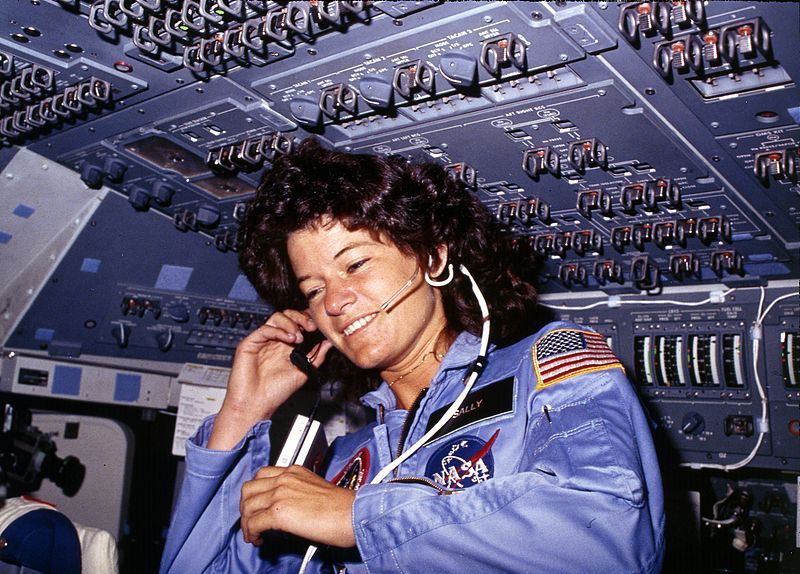 It's a straightforward obit, but getting to the end of the piece we have this:
Ride is survived by Tam O'Shaughnessy, her partner of 27 years; her mother, Joyce; her sister, Karen, known as "Bear"; and a niece and nephew.
I thought, great, she's lesbian and decided to keep her personal life private while she pursued her career. She was married in 1982 but divorced five years later with no children. That would be 1987, and in fact, it's quite possible that she left her husband, astronaut Steven Alan Hawley, for a woman. Now that would have been news! She could have caused a sensation, struck a blow against the patriarchy! Women of the world unite! But no, she was at the pinnacle of her profession and decided to continue achieving. She could have come out as lesbian any time after that. Why not? Who knows? But it's not like there wasn't a massive homosexual rights campaign raging all those years. I think she just thought better of it, and went about pursuing her dreams without all the gay extremist showboating. Frankly, just being a woman in space was
f-king pathbreaking
. No doubt she thought busting through one glass ceiling was enough, at least in her case. Indeed, according to the Times, Ride saw the rights of women as the key civil rights struggle:
In 2001, she founded her own company, Sally Ride Science, to encourage women and especially young girls to become interested in science. She also wrote five children's books encouraging an interest in science.
So it turns out when I logged onto
Memeorandum
, I found the big headline from the sensationalist BuzzFeed, "
First Female U.S. Astronaut, Sally Ride, Comes Out In Obituary
." Looks like everyone else wanted Ride out of the closet except Ride.
And here's this at excitable Andrew Sullivan's page, "
America's First Woman In Space Was a Lesbian
":
Now talk about a buried lede! The only thing preventing the NYT from writing an honest obit is homophobia. They may not realize it; they may not mean it; but it is absolutely clear from the obit that Ride's sexual orientation was obviously central to her life. And her "partner" (ghastly word) and their relationship is recorded only perfunctorily. The NYT does not routinely only mention someone's spouse in the survivors section. When you have lived with someone for 27 years, some account of that relationship is surely central to that person's life. To excise it completely is an act of obliteration. I'm afraid the Beast's tribute is worse. Lynn Sherr manages to write an appreciation which essentially treats Ride as a heterosexual.
The horror!
Homophobia! It's homophobia!
Isn't it always?
Notice that the New York Times "buried the lede!" Imagine what that would been, "Rockin' Sally Ride, First Butch to Blast Into Space, Dies at 61."
And for more humorous pleasure, notice how Towleroad
missed the part
about Ride's lesbianism, and the readers go batsh*t crazy in the comments: "Towleroad jumps the shark - every hour, on the hour." And note Joe. My. God., "
Sally Ride Outed In Obituary
," which includes Twitter embeds bemoaning the awful, just awful situation where Ride's partner, Tam, would be "denied" federal survivor's benefits. That would be a monstrous inhumanity, except that according to the Sally Ride Science
homepage
:
Dr. Tam O'Shaughnessy is the COO and Executive Vice President of Sally Ride Science and a Professor Emerita of School Psychology at San Diego State University. Dr. O'Shaughnessy has been interested in science since she was a little girl.
Right. I'm sure Dr. O'Shaughnessy will live out the remainder of her life in crushing destitution, or at least that's what the idiot progressives would have you believe.
Frankly, Sally Ride is one more example of a great American, a great American who happened to be lesbian. She made a life for herself and her partner and thrived. I mean, what held her back? Nothing. But don't tell that to the hate-addled homosexual progressives currently attempting to dismantle decency and respect in this country.
Photo Credit
:
Wikimedia Commons
.