Communists and nude not-safe-for-children homosexual protesters, because, you know, you must be a bigot if you don't toe the line on the radical left's perverted values-destruction agenda.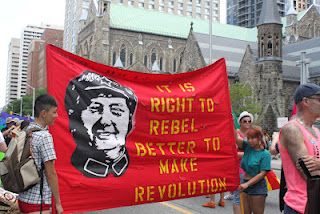 At Blazing Cat Fur, "
Did You Know Mao Was Big On Gay Rights?
"
And, "
Education Minister Laurel Broten's Pride Scrapbook!
"
"I am so making your kids like this!"
Yep, that's what it's all about.
PREVIOUSLY
: "
Larry Brinkin, President of the California Association of Human Relations Organizations (CAHRO), Gay Rights Icon, Arrested on Child Pornography Charges
." And, "
Larry Brinkin Update: Homosexual Pedophile Exposes Rank Hypocrisy of Radical Left's 'Social Justice' Agenda
."