From last month. See, "
Melanie Phillips on a World Gone Mad
":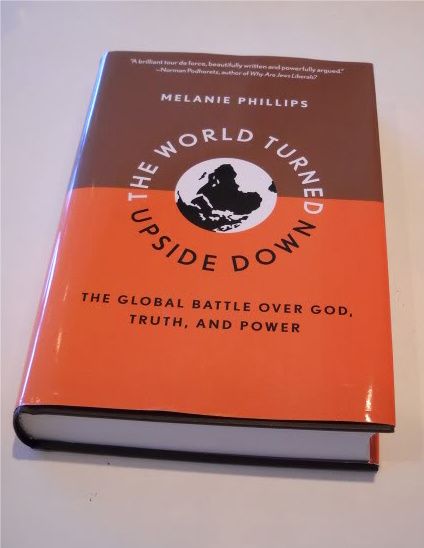 Melanie Phillips, the British journalist, is author of The World Turned Upside Down: The Global Battle over God, Truth, and Power. As the title suggests, the book covers a lot of ground. Phillips touches on much of it in an interview with National Review Online's Kathryn Jean Lopez.

KATHRYN JEAN LOPEZ: What's notable about the current "apparent mass departure from rationality"?

MELANIE PHILLIPS: What I have found so striking is that, in this supposed age of reason, there is such an implacable refusal, over a wide and disparate range of issues, to acknowledge the authority of factual evidence over opinion, or distinguish truth from propaganda and lies, or differentiate between justice and injustice, victim and victimizer. More than that, this phenomenon is confined to the supposed custodians of reason, the intelligentsia; and some of the most prominent of these often-militant "rationalists" propound assertions that are demonstrably irrational.

Even more striking is that this repudiation of reason is associated with the most fashionable and progressive causes — anti-imperialism, anti-Americanism, anti-Zionism, environmentalism, moral and cultural relativism, multiculturalism, scientism. Yet they promote not just irrationality but a return to primitivism, pre-modern levels of social disorder, and the persecution of dissenters.

LOPEZ: What does a self-described "agnostic" care about God?

PHILLIPS: You don't have to be a religious believer to understand that if religion — more specifically, the Hebrew Bible and the Christianity that built upon it — underpins Western civilization and the codes of right and wrong — putting others above yourself, freedom and equality, and belief in reason — that form the bedrock of that civilization, then eroding or destroying that religion will erode or destroy those virtues and the civilization they distinguish.

LOPEZ: You write that progressives, Islamists, environmentalists, fascists, militant atheists, and religious fanatics are "united by a common desire to bring about through human agency the perfection of the world." Is this becoming more apparent?

PHILLIPS: It may seem strange to lump all these ideologies together since they are all so different. But, when you look at them, it is immediately apparent that they are all at root utopian, millenarian visions of the perfection of the world through human agency — the age-old recipe for totalitarian terror. The idea that fascism is in a wholly different place from the Left is in my view quite misplaced: Although conventionally one is described as "right" and the other as "left," this is historically and philosophically inaccurate; they share common roots in the repudiation of individual reason and liberty.

One of the mysteries of the age is the way "progressives" who fetishize sexual freedom, gay rights, female equality, and the like march shoulder to shoulder with Islamists who stone adulterers, kill gays, and subjugate women. They share a common desire to destroy the cultural traditions and normative values of the West — all in the cause of creating the perfect society, which creates in turn a totalitarian mindset, which links religious fanatics and the political tyrannies of both Communism and fascism.

To some of us, this is very apparent — but many who are in the grip of these delusions are frighteningly incapable of understanding what it is that they don't understand.
RTWT.