From Fred Barnes, "
Obama's Olympic Failure Will Test the Washington Press Corps
" (via
Memeorandum
):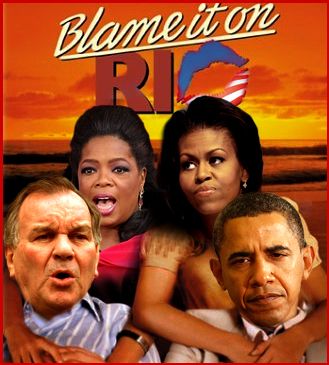 Now is the time for the mainstream media to show it's not totally in President Obama's pocket. The Washington press corps will never fault Obama for pushing hyper-liberal policies in a moderate-to-conservative country. Ideological criticism by the press is reserved for Republican presidents ....

The thriller in Copenhagen was not just a test of Obama. It's a test of the media's willingness to cover the president professionally and honestly when he stumbles. A love affair with a president should have its limits.
Read the whole thing at
the link
.

See also, Gateway Pundit, "
Mmm... Mmm... Mmm... Rush Limbaugh Slams Obama For Failing to Grab the Gold for Chicago
."

Plus, Astute Bloggers, "
CHICAGO ELIMINATED: WITHOUT ACORN VOTER FRAUD, BLACK PANTHER VOTER INTIMIDATION, SEIU THUGGERY AND AN 8-TO-1 SPENDING ADVANTAGE OBAMA LOSES
."

Image Credit: Rush Limbaugh, "
The Ego Has Landed: A Racist World Wants Barack Obama to Fail
."