I've been meaning to write about Erin Andrews again. Her interview last month with Orprah Winfrey was especially interesting. See, "
ESPN's Erin Andrews Speaks Out
."


Even more interesting was the August story at Fanhouse on the foot-dragging progress in the Erin Andrews investigation, "
Where's the Truth in Erin Andrews Saga?
" For as distraught as Erin Andrews has been --- no one should be violated as she was --- Fanhouse rightly questions whether Andrews' squeaky-clean image is fully justified: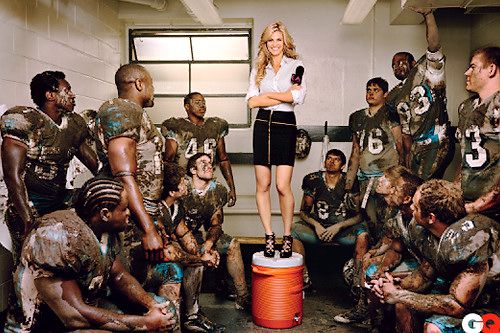 The only thing we've seen of Andrews since late July was a photo spread in GQ. It was shot pre-peephole and was harmless enough.

Well, there was one picture of her standing on top of a Gatorade cooler wearing a tight black skirt. She was surrounded by football players dying to quench their thirsts. You can be sure the photo was not approved by the Association for Women in Sports Media.

As for hearing anything from Andrews, all we've gotten is the tape of an emergency 911 call. Paparazzi were lurking outside her Atlanta-area home, and she was not happy."I did nothing wrong and I'm being treated like (bleeping) Britney Spears and it sucks," Andrews told the operator.

Note to Erin: If you want to stop being treated like Britney Spears, perhaps you should stop posing on top of Gatorade coolers surrounded by tongue-wagging young men.
The Fanhouse piece was the best analysis available in recent weeks. Andrews' interview with Oprah was riveting television, but given her own comfort with posing for suggestive photo displays in mens' magazines, folks might want to reconsider
Christine Brennan's suggestion that Andrews deserved it
. Of course, I don't think she did --- I repeat, I don't think she did --- but if Andrews wants to continue her aggressive PR agenda as the girl next door, it's hardly helpful to be seen in a locker room with lurking mud-smeared jocks ogling her body.

In any case, check TMZ for the more on the arrest, "
Arrest Made in Erin Andrews Peeping Tom
":


TMZ has learned an arrest has been made in the Erin Andrews Peeping Tom case -- the one in which the ESPN reporter was secretly videotaped walking around naked in various hotel rooms ... and the suspect has been charged with the federal crime of felony stalking.

48-year-old Michael David Barrett was arrested at Chicago O'Hare International Airport tonight.

According to the FBI, Barrett allegedly stalked Erin "with the intent to harass, to place under surveillance with intent to harass and intimidate, and to cause substantial emotional distress to a person in another state."
See also, Wizbang Pop, "
Arrest Made In Erin Andrews Nude Video Case
." And, the Los Angeles Times, "
Man Arrested in Erin Andrews Nude Video Case
."

Plus, the press release from Andrews' law firm,
Bingham McCutchen
: "
Statement on Behalf of Erin Andrews
":


"Today's action by the FBI is a welcome step in bringing this investigation to a successful close. We made it clear in our original statement issued on July 17, that we were determined to press criminal charges against those responsible for the invasion of Erin's privacy when alone in her hotel room. Erin and her attorneys have been working closely with the United States Attorney, the FBI in Los Angeles and the private investigation firm of Kroll, Inc. since mid-July to investigate and reveal the full facts surrounding this matter. It is now clear that she was the victim of stalking and invasion of privacy at more than one location. She was not a random victim. She was targeted and violated.

Upon learning of today's events, Andrews said: "I am deeply grateful to Assistant United States Attorney Wes Hsu and Special Agents for their dedicated service; and to ESPN for its support during this difficult time. I hope that today's action will help the countless others who have been similarly victimized. For my part, I will make every effort to strengthen the laws on a State and Federal level to better protect victims of criminal stalking. I am also grateful to those who have expressed their concerns and good wishes for my family and me."

According to attorney Marshall Grossman, "Erin deserves significant credit for the progress made in solving this case. She has worked side by side with law enforcement to reconstruct the events and provide leads which have led directly to today's action. She is committed to seeing this through and do all she can to create a deterrent to others who would even consider engaging in this type of vile conduct in the future.
Click here for my previous reports.