From ABC News, "
David Letterman Confession: I Had Sex With Staffers, Got Targeted by Extortionist
":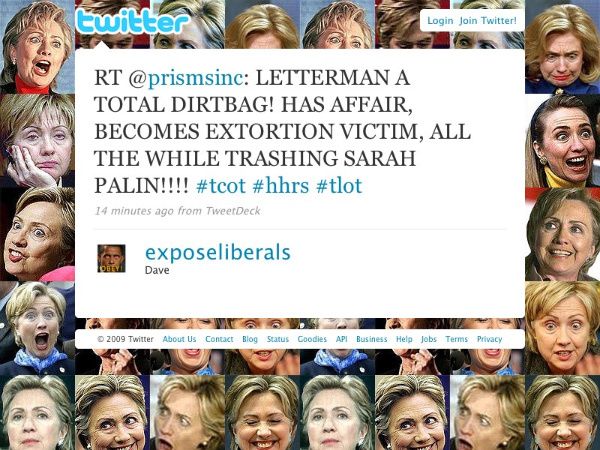 David Letterman told the audience of his late night talk show that he had sexual relationships with female members of his staff, and added he forked over a bogus $2 million check as part of an extortion plot on the matter.

Letterman, 62, made the confessions to the audience during a taping of "The Late Show" for broadcast Thursday night, according to a statement by Worldwide Pants Inc., Letterman's production company.

"This morning, I did something I've never done in my life," Letterman told his audience, according to the statement. "I had to go downtown and testify before a grand jury."

During that testimony, Letterman acknowledged unspecified sexual relationships with staff members, the Worldwide Pants statement said.

"My response to that [allegation of sexual relationships] is, 'Yes I have.' Would it be embarrassing if it were made public? Perhaps it would," Letterman said. "I feel like I need to protect these people. I need to certainly protect my family."

Earlier this year, Letterman announced on his show his marriage to his longtime girlfriend, Regina Lasko, who he began dating in the 1980s. The pair have a son, Harry Joseph Letterman, whose impending arrival Letterman announced on his show in 2003.

It's unclear from the Worldwide Pants statement when Letterman's sexual relations with his female staffers occurred.

But according to the statement, Letterman received a package three weeks ago containing a threat to reveal those indiscretions "if Letterman did not pay the individual a large sum of money" -- specified in a later communication as $2 million.
More at
the link
.

This story's still pretty much breaking. See also, TMZ, "
Letterman Says Someone's Extorting Him
." (Via
WeSmirch
.) Nothing at
Memeorandum
yet.

Hat Tip: Fire Andrea Mitchell on
Twitter
(sceencap above). Plus, "
Old Perv David Letterman Admits to Affairs With MULTIPLE Female Staffers
."
**********
UPDATE: There's a Memeorandum thread going now --- it's going to be a big one!