I missed this graphic last night, at my post, "
Republicans Poised for Strong Comeback in 2010
." The magic numbers are 40 seats in the House and 11 in the Senate. The GOP's going to need a 1994-like showing: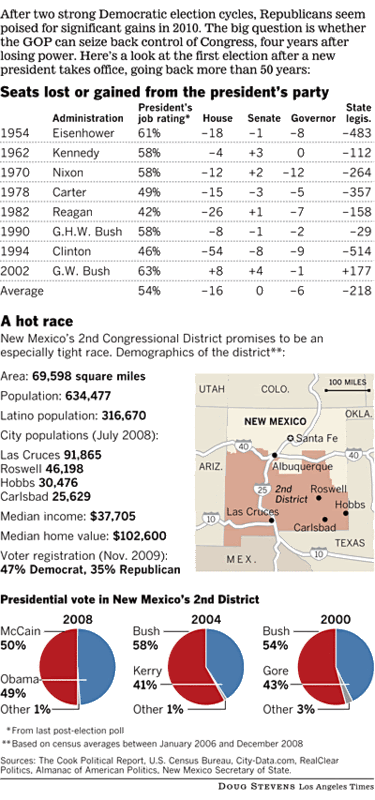 And this gives me a chance to post the comment there, from
Reaganite Republican
:

The Dems face annihilation in 2010, IMHO - and won't be trusted with the purse strings again for decades, if ever.

ObamaCare is still far from a done-deal, and regardless the political damage is done.

Cap-n-tax? With the evidence looking weak lately, Obama's own #s tanking … and 11% unemployment? Small wonder Dems are asking him to 86 the bill already.

The only major legislation enacted then would be the wholly-ineffective Porkulus. Obama has NO political cover on that one, due to the paucity of GOP collaborators- he owns it. All it will ever stimulate is inflation… in the months leading right-up to midterms.

The Democrats look to face a bloodbath next fall, with some like Dick Morris predicting a 100+ seat loss on the Hill.

By 2012, most people will wince at the very mention of the name "Obama" - and the GOP could take 40 states running Gilbert Gottfried -

Party's over kiddies- time to put the grown-ups back in charge ...
See also Reaganite's cartoon roundup from yesterday, "
Laughing-Off 2009... a Weird One by ANY Measure
."