Robert Stacy McCain, Google-bomber extraordinaire, has gotta get a kick out of this one. As indicated by my Sitemeter the other day, apparently folks have been searching for "
Jane Hamsher Nude
." Interestingly, my blog does well in the search results: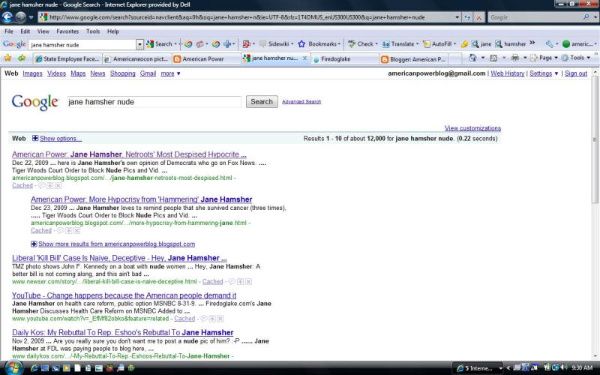 Hate to disappoint my more salacious readers, but nothing fancy here, as the seach simply reveals my December 22 entry, "
Jane Hamsher, Netroots' Most Despised Hypocrite, Called Out Again!
" That's when "Hammering" Hamsher was herself hammered for appearing on Fox News.

But thinking about it, is Jane attractive? Well, actually, I'd rather be searching for
Penélope Cruz nude
, but if some dudes get a chubby fantasizing about hammering Hamsher, more power to 'em.

In any case, Jane continues to make the rounds as a pushy progressive pundit out to kill ObamaCare. See, "
Happy New Year
":


I spent my morning on MSNBC talking about right/left opposition to the mandate. What about you? ...
I guess
Mark Thompson
can dig it.

More on ObamaCare, by that way, at "Mayo Clinic in Arizona to Stop Treating Some Medicare Patients." (Via Memeorandum.)
**********
UPDATE: I'm glad I took the screenshot! Now this post leads the Google seach for "Jane Hamsher Nude"!