The image is from Pat Dollard, "
Obama's Race War: "Wake Up, Conservatives", Wake Up Americans
." I can't tell you how perfectly the title of that post sums up how I see this administration. I had generally nice things to say about the
president's address
to students today. I like the message of personal responsiblity. It's just not authentic coming from this White House snake-oil salesman.

Now we have another devastating essay from Patrick Courrielche at Big Hollywood, "
WHO SET UP GOVERNMENT 'PROPAGANDA' CONFERENCE CALL? Newly Revealed White House, NEA Audio Contradict
." This part is killer: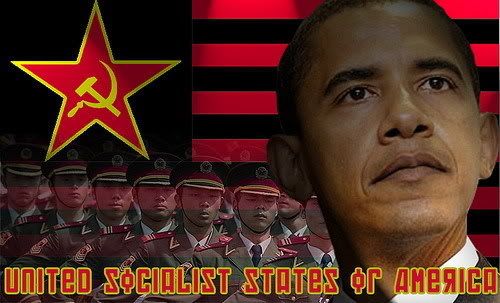 Even more disturbing than learning that the White House and NEA are using the arts to address specific issues, is to learn what was discussed on this new conference call. Rosenbaum mentions that there was much talk of "leveraging federal dollars" to get artists and cultural organizations involved in social-service projects.

Leveraging federal dollars? This is the problem with marrying issue specific topics, like health care and energy, with a group that is funded by tax dollars; it increases the potential of taxpayer-funded propaganda.
Hmm. Propaganda. It's starting to become a theme.

And here's this from Jay Cost, "
Obama To Give Historic Speech ... Again
":

Another historic, monumental speech from the 44th President of the United States. He's averaging about one of these every three weeks now, isn't he?

To say that this President is overexposed is an understatement. He was overexposed six months ago when he let his kids appear on the cover of Jann Wenner's trashy supermarket celeb mag. I'm not sure what prefix to use, but "over-" does not sufficiently describe a President who is now doing 30-second spots for George Lopez's new late night show on TBS. Seriously.
I'm just glad the tea parties are having such a phenomenal effect, and that the historical abomination of Obama 44 is inceasingly looking like a one term deal. January 2013 can't come fast enough for this country; although, in consolation, I'm confident that Obama's inexperience and overreaching are sealing his rep as the worst president ever.
See also, Hot Air and Memeorandum.