The alternative information stream from Iran is truly mind-boggling. The Boston Globe is trying to catch up to the bloggers and twitterers with its photo roundup, "
Iran's Disputed Election
", via
Memeorandum
: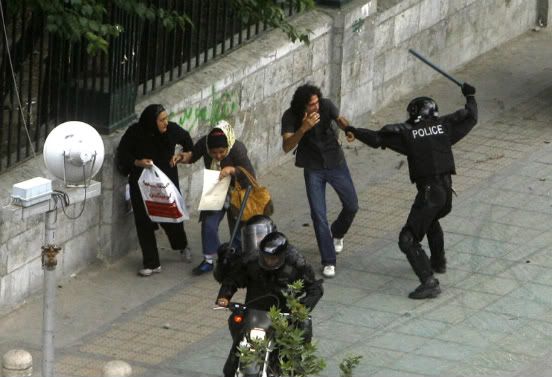 But Twitter is just amazing, for example, "
IranRiggedElect
."

But events have moved past the media's epic fail the President Obama's.

Ben Smith's got a piece up at The Politico, "Unrest in Iran Forces President Obama's Hand" (also at Memeorandum).

But International Business Daily nails it, "
Helping Mahmoud
":


In his inaugural address, President Obama had a message for the oppressed and oppressor alike. He said, "To all other peoples and governments who are watching today . . . know that America is a friend of each nation and every man, woman and child who seeks a future of peace and dignity, and we are ready to lead once more."

He added: "To those who cling to power through corruption and deceit and the silencing of dissent, know that you are on the wrong side of history, but that we will extend a hand if you are willing to unclench your fist."

The clenched fist of Iranian President Mahmoud Ahmadinejad, in his suspect return to power, has not only delivered a blow to freedom-seeking Iranians; it is also knocking the Obama administration for a loop — primarily because the president has chosen not to stand with Iranians who seek "a future of peace and dignity."

The administration was obviously rooting for Ahmadinejad to be beaten by his chief rival, former Iranian prime minister Mir Hossein Mousavi. The president on Friday, the day of the election, spoke of "a robust debate taking place in Iran" bringing with it "new possibilities" and "the possibility of change."

How naive those words sound in retrospect. Presidential wishful thinking has crashed head-on into Islamofascist reality.
There's more at
the link
. And check
Memorandum
for more analysis.