Via Gateway Pundit, "
Figures ... Dems Are Planting Fake Doctors at Town Hall Meetings
."

Gateway links to
Patterico
, who's done two posts on Roxana Mayer, who was reported in the Houston Chronicle as a "
pediatric primary care physician
":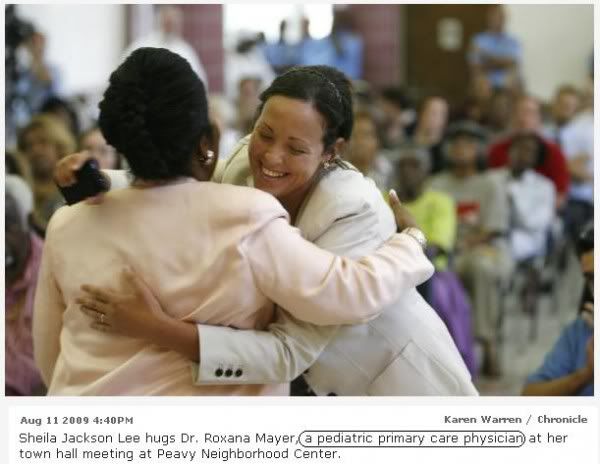 One supporter, Dr. Roxana Mayer, a physician who does not live in Jackson Lee's district, praised the reform plan for overhauling a broken system.

"I don't know what there is in the bill that creates such panic," she said.
See
Patterico
's
post
for the details, "
Roxana Mayer: I'm Not a Doctor But I Play One at Town Hall Meetings
." Despicable deception, but what's especially bad is apparently the Chronicle knew that Ms. Mayer was an Obama convention delegate at the time of publication - and thus the reporter id not detail the conflict of interest.

This is just one more in a line of Democratic deceptions coming out in the last few days. President Obama was caught planting participants at the yesterday's New Hampshire town hall. See Fox News, "
White House Says Girl With Campaign Ties Chosen at 'Random' to Speak at Obama Town Hall
." Also, "
Question by a Malden Girl Becomes the Target of Conservative Critics
."