From The Blog Prof, "
Obama "Joker" Posters Popping Up All Over L.A.
":


No need to describe them as pictures are worth a thousand words ...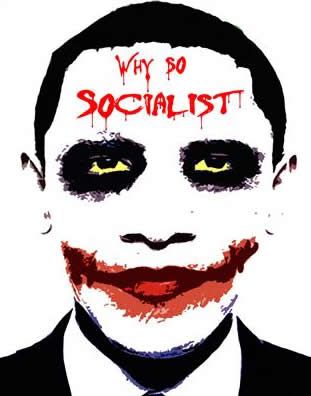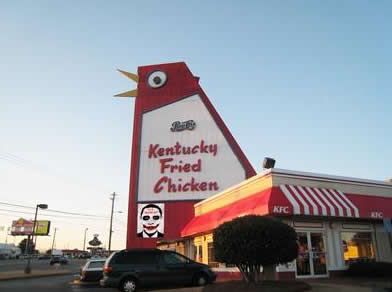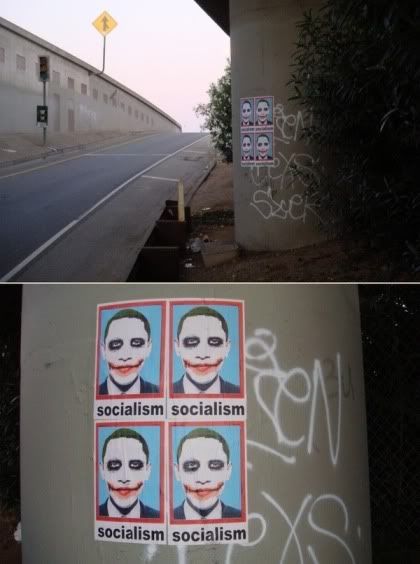 Also, from Associated Content, "
Obama Joker Poster Plastered All Over Hollywood
":

... posters depicting President Obama as the Joker character have been plastered on various freeway off-ramps and underpasses in the Hollywood area.
And from KTLA-TV Los Angeles, "
Obama 'Joker' Poster Causing a Stir in L.A.
":
A poster showing President Barack Obama as Heath Ledger's "Joker" character from "The Dark Knight" is creating a stir on the streets of Los Angeles where the image began appearing over the weekend.

The Obama-Joker poster shows President Obama with white face paint, dark eye shadow and smudged red lipstick and also has the word "socialism" printed in bold, dark letters under the image of his face.

It's unclear who created the image and who is posting it across the city. No one has taken credit so far.

Los Angeles Urban Policy Roundtable President Earl Ofari Hutchinson is calling the depiction, politically mean spirited and dangerous.

Hutchinson is challenging the group or individual that put up the poster to have the courage and decency to publicly identify themselves.
I don't recall Hutchinson getting so uptight about
two-terms of "BusHitler" attacks
. And actually, the First Amendment's a bitch that way sometimes. See, "Obama 'Joker poster' is Free Speech at Work."
Also, check Allahpundit, "LA Weekly Wets Itself Over Obama/Joker Poster: 'The Only Thing Missing is a Noose'."
More at World Weekly News and
Newsbusters
(via
Memeorandum
).